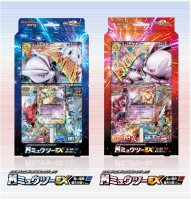 No, they won't feature Shaymin-EX, unfortunately.
The spring 2016 tins will be named the "Triple Power Tins" and will feature one of three Pokemon-EX: Mewtwo-EX, Machamp-EX, or shiny Gyarados-EX. Each will also come with four booster packs and a code card to unlock a playable deck in PTCGO.
The Pokemon-EX will likely be reprints, but with new artwork. Mewtwo-EX will likely be one of the two reprinted Mewtwo on the right, which were released in blister packs in Japan last month. How would you like yet another Mewtwo? And how are we going to get the other one?
The tins will hit store shelves "by" March 8th. Thanks goes to Andrew for the news!