New Poncho-Clad Pikachu Boxes, Sleeves; Mega Evolution Distribution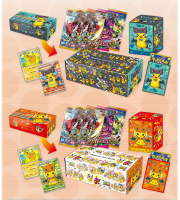 In addition to the Poncho-Clad Pikachu customers will receive for spending 1,000 yen at Pokemon Centers this Saturday, two more Poncho-Clad Pikachu promos will be released in two new "Pokemon XY BREAK Special Boxes." The boxes will be released in stores on January 1st for 2,500 yen (around $25).
Each box will feature Pikachu dressed as either Mega Charizard X or Y, with matching card sleeves, a deck box, and one of two holo Poncho-Clad Pikachu promos. Each box will also come with five booster packs: 2x Rage of the Broken Sky, 1x Rising Fist, 1x Phantom Gate, and 1x Emerald Break.
I wonder if we'll eventually get a promo set with all of these Mega Evolution Pikachu. I think it would sell well, right? Thanks goes to Vincent and Sean T. for the translations!
Poncho-Clad Pikachu – Lightning – HP70
Basic Pokemon

[C][C] Pika Punch: 20 damage.

[L][L][L] Crimson Dive: 90 damage. Flip a coin. If tails, this Pokemon does 30 damage to itself.

Weakness: Fighting (x2)
Resistance: Metal (-20)
Retreat: 1
Additionally, Pokemon Centers will be distributing Level 100 Audino, Lucario, Altaria, Slowbro, and Sableye with their associated Mega Stones between January 1st and 31st. To coincide with this campaign, new Poncho-Clad Pikachu card sleeves featuring Pikachu dressed as Mega Evolutions will be released in stores. Each pack will contain 32 sleeves and will cost 362 yen each. They'll also be released on the 1st.




And one more thing! Starting December 26th, if you spend 2,000 or more yen on Pokemon products at participating electronic stores or Pokemon Centers, you'll automatically receive a classic Pokemon coin set. You'll also receive either a classic Pokemon TCG deck box, notebook, or special holo promos of Rainbow Energy or Eco Arm. The additional gift will be chosen at random.