M Aerodactyl-EX, M Mawile-EX, Luxray BREAK Revealed in 'CoroCoro'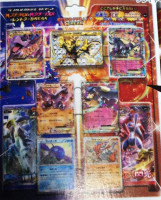 CoroCoro has revealed the star cards of "Double Mega Break Set: M Aerodactyl EX + M Mawile EX + Luxray BREAK." We first revealed the product back in June. It'll be released in Japan on November 20th for 2,160 yen and it will come with five booster packs, a player's guide, and a mini-set of 14 cards.
If multiple copies of the same Pokemon have their own card numbers (such as Shinx #1 and Shinx #2), it's very likely the Pokemon below are all of the Pokemon in the set.
We will get both Aerodactyl-EX in our Mega Aerodactyl Premium Collection this January.
Thanks goes to Vincent and Franco T. for the translations!
Aerodactyl-EX – Fighting – HP170
Basic Pokemon

[F][C] Rock Smash: 30+ damage. Flip a coin. If heads, this attack does 30 more damage.

[F][C][C] Land Crush: 70 damage.

When a Pokemon-EX has been Knocked Out, your opponent takes 2 Prize cards.

Weakness: Lightning (x2)
Resistance: Fighting (-20)
Retreat: 1

---

M Aerodactyl-EX – Fighting – HP210
Basic Pokemon

When 1 of your Pokemon becomes a Mega Evolution, your turn ends.

[F][C][C] Rock Drill Dive: 110 damage. Does 10 damage to all Benched Pokemon.

When a Pokemon-EX has been Knocked Out, your opponent takes 2 Prize cards.

Weakness: Lightning (x2)
Resistance: Fighting (-20)
Retreat: 1

---

Mawile-EX – Fairy – HP150
Basic Pokemon

[Y] Smack: 20 damage.

[Y][Y][[Y] Wonder Bomb: 100 damage. Flip a coin. If heads, discard an Energy attached to your opponent's Active Pokemon.

Weakness: Metal (x2)
Resistance: Darkness (-20)
Retreat: 1

---

M Mawile-EX – Metal – HP190
Basic Pokemon

When 1 of your Pokemon becomes a Mega Evolution, your turn ends.

[Y][Y][Y] Twin Grapple: 130 damage. Flip 2 coins. For each heads, discard an Energy attached to your opponent's Active Pokemon.

When a Pokemon-EX has been Knocked Out, your opponent takes 2 Prize cards.

Weakness: Metal (x2)
Resistance: Darkness (-20)
Retreat: 2

---

Luxray BREAK – Lightning – HP170
BREAK Evolution – Evolves from Luxray

Luxray BREAK retains the attacks, Abilities, Weakness, Resistance, and Retreat Cost of its previous Evolution.

[L][L][C][C] Wild Rush: 130+ damage. Flip a coin until you get tails. For each heads, this attack does 40 more damage.

---

Luxray – Lightning – HP140
Stage 2 – Evolves from Luxio

[C][C] Bite: 50 damage.

[L][L][C] Back Out: 100 damage. During your opponent's next turn, damage done to this Pokemon by your opponent's Active Pokemon's attacks is reduced by 20.

Weakness: Fighting (x2)
Resistance: Metal (-20)
Retreat: 1

---

Luxio – Lightning – HP??
Stage 1 – Evolves from Shinx

[C] Bite: 20 damage.

[L][C] Thunder Fang: 30 damage. Flip a coin. If heads, your opponent's Active Pokemon is now Paralyzed.

Weakness: Fighting (x2)
Resistance: Metal (-20)
Retreat: 1

---

Shinx – Lightning – HP60
Basic Pokemon

[C] Roar: Your opponent switches his or her Active Pokemon with one of his or her Benched Pokemon.

[C] Stop: 10 damage.

Weakness: Fighting (x2)
Resistance: Metal (-20)
Retreat: 1