'Mega Latios Collection' Product Image!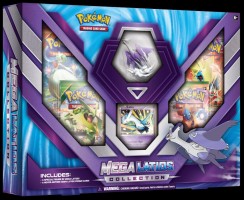 As posted before, the Mega Latios Collection will be hitting store shelves on July 22nd. We now have its product image, giving us the first glimpse at its included Mega Latios figurine! Thanks goes to @AutobotTesla for the heads up on this story!
The box will come with a holo alternate artwork reprint of the Latios from the XY Trainer Kit as well as two booster packs of Roaring Skies, a pack of Primal Clash, and a pack of Phantom Forces.