Everything You Need to Know About PokéBeach's Article Program!
As stated in the welcoming post, PokéBeach is now running an article program for the TCG!
In addition to free articles, we will also be offering premium articles / services to site visitors.
Regular Articles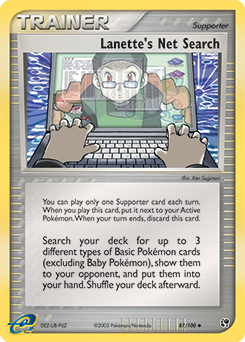 We consider PokéBeach's article program to be the community's article program. As such, anyone is allowed to write "free" articles as long as they know what they're talking about. And of course, all visitors can read these articles. It's "the community helping the community!"
We of course want to lean toward competitive-based articles, but we more than welcome articles about subjects such as starting your own Pokémon League, running a tournament, or things like that. As long as your article has a decent amount of appeal to a TCG fan and introduces new insight about some subject matter, we'll post it. You just need to know what you're talking about, your article must shed light on some subject matter in an entertaining way, and your article must of course be written well.
To sign up to write for this program, please fill out this application. Once you're approved, all you really have to do in the future is check in with us and have us approve your article for publishing. Easy-breezy-peezy!
Premium Article Program
In addition to regular articles that anyone can read and write, PokéBeach is also offering a premium subscription service for those who want to improve their game. This service will directly connect subscribers to the game's top players.
This service exists because top players are unfortunately not willing to write regular articles that give out their advice for free. This makes sense since they invest a lot of time and money into the game in terms of playtesting and traveling all over the place to keep up their Championship Points. It's very expensive and time-consuming to be a top player. Thus, this service exists so that we can also offer PokéBeach's members the opportunity of getting top competitive advice that they would otherwise not see from the regular articles.
With a subscription, you'll:
Get to read 2-3 extensive premium articles a week, written by these top players.
Be given access to the "Subscriber's Secret Hideout" forum, where you can post your deck lists and get them fixed by these top players.
Participate in forum discussions about the metagame that the writers hold in the aforementioned forum.
For the month of May, all of our writers are top players in the game, whether National Champions, top cutting at Worlds, and/or winning so many Cities, States, and Regional tournaments that we had to tell them to cut down their lists to only recent seasons! To read a list of their impressive and extensive credentials, you can check out this forum thread. All of them are very excited to be writing for the program and they're ready to give you their help and insight!
The subscription prices for this program are as follows:
Weekly Subscription: 4.99 / week (the price of a coffee)
Monthly Subscription: 13.99 / month (the cost of a restaurant meal)
Quarterly Subscription: 12.99 / month (if you skip the tip because they had horrible service)
However, we also want to reward our most dedicated readers by making a one-time offer for just this week. If you subscribe before next Monday, you'll get a special subscription price that will never be offered again. You will also keep this price for life!
Weekly Subscription: 3.99 / week (regularly 4.99)
Monthly Subscription: 10.95 / month (regularly 13.99)
Quarterly Subscription: 9.90 / month (regularly 12.99)
Like any kind of subscription service, there is a 30-day money back guarantee. You can subscribe now and then cancel at the end of the month to get a full refund. But the special offer above will only be available for a week, so hurry now if you're at all interested or you'll miss out!
This premium article program is one of the best ways to improve your game. Not only will you be getting deck lists, strategies, and analysis from the game's top players each week through extensive articles, but they'll also fix your decks for you and give you advice. This premium program was designed from user feedback over the past three years: we asked visitors what they would want to see in a PokéBeach premium article service, and this was the result. So we know this program will be very helpful to players from every walk of life!
> To subscribe to the article program, go to the subscription page! You can also register a PokéBeach account through there if you don't have one already. Remember, the special subscription prices expire in a week, so don't miss out!
If you're interested in writing a premium article, you can also fill out a writer's application.
Questions? Suggestions?
Like I said earlier, we consider the regular article program to be the community's article program. If you have any suggestions or feedback, please provide them below and we'll take them into consideration. Feel free to post if you have any questions as well. Thank you!