XY6 'Emerald Break' Product Info Revealed!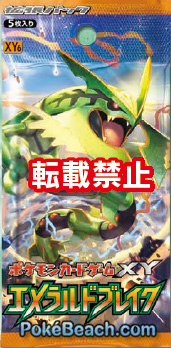 New product information for XY6 Emerald Break has been revealed! As stated earlier today, the set will contain 78 cards (excluding secret rares) and is to be released on March 14th in Japan. The set will feature Dragon-type Rayquaza-EX and M Rayquaza-EX cards.
Accompanying the set on its release date is a "Battle Deck Mega Rayquaza-EX." The 60-card deck comes with three copies of Rayquaza-EX from the set and two copies of M Rayquaza-EX. The deck will also feature exclusive Trainer cards. It will cost 1,556 yen.
Also being released is a 32-pack of Mega Rayquaza sleeves for 272 yen, a Mega Rayquaza deck box also for 272 yen, and a Mega Rayquaza binder for 600 yen. Thanks goes to Puddizzle for all of the translations!
The name of the set may be a reference to Rayquaza "breaking" through the atmosphere and then the meteor in OR/AS. You can even see a few remnants of what appears to be the meteor in the booster pack's image. Could we be seeing Deoxys in this too?