'Pokémon: Symphonic Evolutions' Concert Announced!
I got the front row, center seat!! :D
Pokemon has announced an orchestral concert tour for Pokemon's video game music! The first performance will take place the Friday immediately before Worlds in Washington, D.C. Tickets are already available for purchase and range from $50 – $83 or so. This is going to be so exciting!!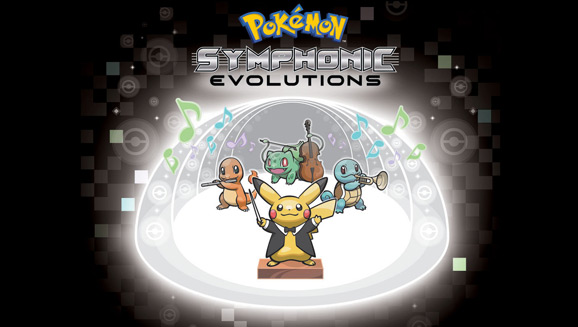 The Pokemon Company International and Princeton Entertainment announced today that the official Pokémon live orchestral concert series, Pokémon: Symphonic Evolutions, will premiere at the famed Warner Theater in Washington, DC on Friday, August 15, 2014. The 2014 Pokémon World Championships will also be held in the nation's capital that weekend, August 16-17, at the Walter E. Washington Convention Center.

The premiere performance in Washington, DC will be followed by a performance at Philadelphia's Mann Center for the Performing Arts on Friday, September 19th. More dates, locations, and ticket information for the concert series will be announced soon and further details, including how to purchase tickets now to the Washington, DC and Philadelphia performances, can be found at PokemonSymphony.com.

Pokémon: Symphonic Evolutions will take audiences of all ages on a powerful musical retrospective through the popular video game franchise's most memorable melodies. This exciting new concert tour reunites key creative producers from the critically acclaimed The Legend of Zelda: Symphony of the Goddesses concert tour.

With more than 260 million video games sold since its debut in 1996, Pokémon continues to provide memorable entertainment around the world. Pokémon: Symphonic Evolutions gives loyal fans and newcomers a chance to experience the evolution of the franchise through all-new orchestral arrangements and carefully timed visuals drawing from classic and recent Pokémon video games including:

Pokémon Red and Pokémon Blue, Pokémon Yellow
Pokémon Gold and Pokémon Silver, Pokémon Crystal
Pokémon Ruby and Pokémon Sapphire, Pokémon Emerald
Pokémon Diamond and Pokémon Pearl, Pokémon Platinum
Pokémon Black and Pokémon White
Pokémon X and Pokémon Y

"Pokémon: Symphonic Evolutions is going to be a spectacular showcase of the memorable music that has been a hallmark of the Pokémon franchise for nearly 20 years," said J.C. Smith, director of Consumer Marketing at The Pokémon Company International. "The concert series serves as a thank-you to fans and an invitation to share our passion for Pokémon by reliving some of our fondest memories. We're looking forward to seeing fans of all ages meeting up and enjoying this very special Pokémon orchestral event together."

Visit PokemonSymphony.com for more Pokémon: Symphonic Evolutions news and information.