Gotta Catch 'Em All Sweepstakes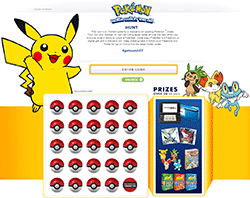 Pokemon has revealed a new "Gotta Catch' Em All" website after accidentally uploading its teaser video to their YouTube channel last Monday. Pokemon will be revealing codes across the web that you can enter into the website to win digital gifts and the chance to win a couple of XY prizes, such as a 3DS, the TCG Starter Pokemon Figurine Boxes, strategy guides, plush toys, and digital downloads for X and Y.
50 prizes will be given out every week until the release of X and Y on October 12th. The contest is only open to U.S. residents. When you first go to the website, enter the code "XY1012" to register.
The hunt is on. Collect codes for a chance to win exciting Pokémon prizes.

From now until October 12, we'll be hiding secret codes all over the web. When you find one, enter it below to unlock a Poké Ball. Inside every Poké Ball is a Pokémon, a digital gift, and a chance to win. Keep checking back or follow us on Facebook and Twitter for tips on how to find the latest hidden codes.