'Plasma Blast' Elite Trainer Box, Set Description
Like when Plasma Storm came out, Plasma Blast will get its own Elite Trainer Box. Each box comes with 8 Plasma Blast booster packs, 40 Energy cards, 2 acrylic condition markers, 6 damage-counter dice, a competition-legal coin-flip die, a player's guide, 65 Plasma Blast card sleeves, 4 dividers, and a collector's box to hold everything. It will retail for $39.99.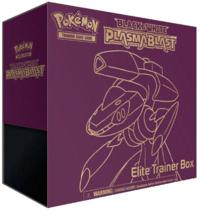 The Plasma Blast sell sheet has also been revealed, discussing the set's contents.
Unbroken, Unbowed, Undefeated – Unova Blasts Back!

Challenges ring out, Pokémon duel, and the battle for Unova enters the next chapter in the Pokémon TCG: Black & White – Plasma Blast expansion! With Virizion-EX by your side, you must lead the counterattack against the failing forces of Team Plasma as they mount their last stand behind the twinned might of Team Plasma Dialga-EX and Palkia-EX! Victory is within your grasp, when suddenly you face your greatest test… the mighty and mysterious Genesect-EX takes the battlefield, supported by devastating ACE SPEC cards that give it additional attacks! Trainers, it's time to break the ice!

4 powerful brand-new ACE SPEC Trainer cards!
11 new Pokémon-EX including 5 full-card art Pokémon! [Note: The 5 Megalo Cannon EXs, their 5 full arts, and Kyurem-EX = 11.]
Awesome all-new Team Plasma cards!
Over 100 cards in all!