Mewtwo's New Forme Revealed on 'Pokemon Smash!'
Update (5:00 PM) – Added high quality artwork, screenshots, and the official press release below.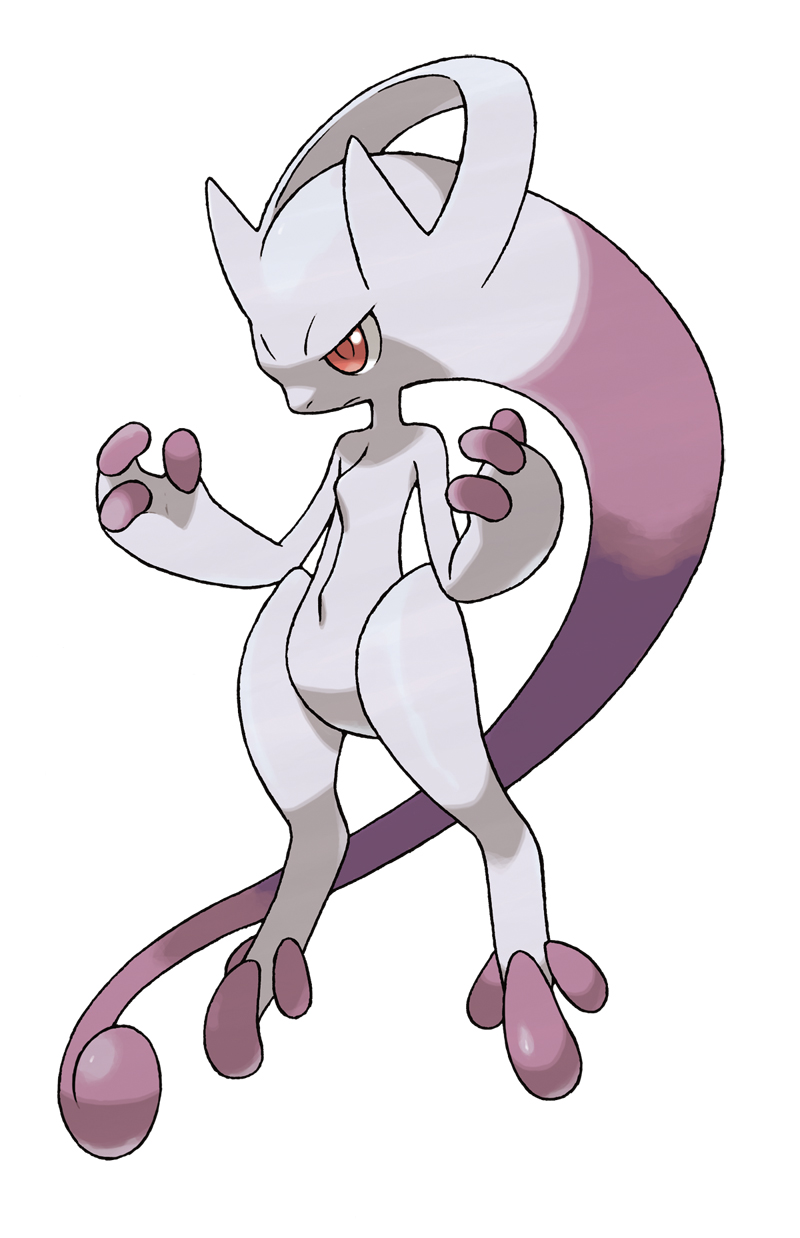 Pokemon Smash has just revealed the supposed new "Mewtwo forme," as you can see below. If it is a new forme, it appeared to use moves that its normal form can already use, such as Psywave, Energy Ball, Shadow Ball, and Blizzard (it used six different moves in their trailer, but probably just for demonstrative purposes).
Pokemon.com just uploaded the same video of the Pokemon, calling it "A New Pokemon with a Familiar Look," which is odd since if it were a new Mewtwo forme, they should have called it "An Old Pokemon with a New Look." Since neither Pokemon Smash nor Pokemon.com specifically called it Mewtwo, it may not actually be Mewtwo – perhaps it could be a new clone of Mew, such as Mewthree, an evolution of Mewtwo, or something else? However, this ambiguity could be a marketing tool to keep speculation running high, which Pokemon is of course famous for.
We should note that when Kyurem's new formes were officially revealed, they were also called "new Pokemon" rather than new formes.
It was also revealed that a new Extremespeed Genesect: Mewtwo's Awakening trailer will be revealed on April 18th and that we'll find out more information about this "new Pokemon" then (if CoroCoro doesn't spoil it first).
It's been more than a month since the reveal of Sylveon—the newest evolution of Eevee. Fans have debated which type this new Pokémon will be when it debuts in Pokémon X and Pokémon Y, launching worldwide in October. Today, the mysteries of the newest Pokémon titles continue to grow with the unveiling of a Pokémon that is strangely familiar to Legendary Pokémon Mewtwo! This special reveal was made just moments ago on the "Pokémon Smash" television show in Japan.

This new Pokémon shares many traits with Mewtwo and it's suspected that the newly discovered Pokémon has a connection with Mewtwo—a powerful Pokémon that debuted in Pokémon Red and Pokémon Blue.

What is this new Pokémon? How will you encounter it in Pokémon X and Pokémon Y? When will you know more? One thing is clear, your readers will certainly want to debate the meaning of this new Pokémon!