'Plasma Storm' Info, Booster Packs; Spring 2013 Tins!
The first set information about Plasma Storm has been released along with its booster pack designs, as you can see below. As posted previously, Plasma Storm will hit store shelves on February 6th. It is our equivalent of Japan's Plasma Gale set and will include cards from the Kyurem Battle Strength Decks as well (the 4 EX cards and full arts from Plasma Gale + the 4 EX's from the decks).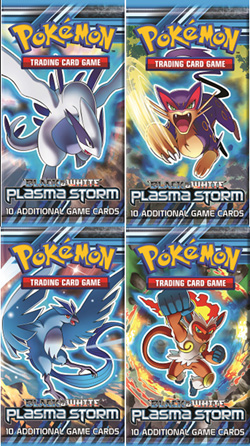 Clouds gather, Energy crackles, and when you play the Pokémon TCG: Black & White—Plasma Storm expansion, a new force will be felt as the tempestuous Team Plasma makes its debut! All must make ready for a new battlefield, featuring electrifying Team Plasma Pokémon, game-changing Trainer cards, and Team Plasma Pokémon-EX such as Articuno-EX, Zapdos-EX, and Lugia-EX. And, as all-new, powerful ACE SPEC cards blast the balance of power and even more amazing Pokémon-EX race into battle, a question must be asked: Trainers, are you ready?

Prepare for the Plasma Storm!

3 powerful brand-new ACE SPEC Trainer cards!
8 new Pokémon-EX including 4 full-card art Pokémon!
Awesome all-new Team Plasma cards!
Over 130 cards in all!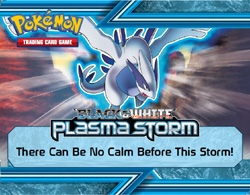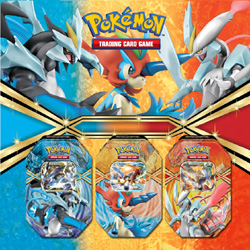 The spring 2013 tins have also been revealed and will feature either Keldeo-EX, Black Kyurem-EX, or White Kyurem-EX. They will be released on March 6th. The tins will also come packaged with one of two Meloetta cards (perhaps we'll see its mini-movie debut around the release of these tins?).
Their achievements are legendary, their strengths mythical…and now three amazing Pokémon-EX will push your game to the limit in the Pokémon Trading Card Game: EX Power Tins! Each of these excellent tins contains 1 of 3 powerful Pokémon-EX as a special foil card, 1 of 2 special Pokémon TCG cards featuring the Mythical Pokémon Meloetta, 4 Black & White Series booster packs, AND a BONUS code card for the Pokémon Trading Card Game Online.

In this tin, you'll find:

1 of 3 powerful foil Pokémon-EX cards: Black Kyurem-EX, White Kyurem-EX, or Keldeo!
1 of 2 special Pokémon TCG cards featuring the Mythical Pokémon Meloetta
4 Pokémon TCG booster packs
A BONUS online code card for unlocking an item in the Pokémon Trading Card Game Online!