'Pokemon Black 2' and 'White 2' Appear on 2ch: Incoming Spoilers!
Don't forget that the Speed Gamers marathon is still going on! They've raised almost 75% of their goal so far but still need all the support you can give.
A few players on Japanese forum 2ch have received copies of Pokemon Black 2 and White 2 early, as you can see by their photos below. They are continually posting new photos and information, so refresh this story once in a while for all the latest! As with our coverage of previous games, we'll post whatever details the Japanese players leak out and will then cover the games ourselves when we receive our own copies in the mail. Stay tuned! Puddizzle will be assisting me with this news story, so we'll both be updating it.
(Reversed the bullet points so that the most recent bullet is on the top and the oldest is on the bottom.)
The presentation also revealed a new Nintendo 3DS with larger screens. The top screen is 4.88 inches (originally 3.53) and the bottom screen is 4.18 inches (originally 3). It will be released in Japan on July 28th for 18,900 yen (about $236).
The Nintendo Direct presentation just finished announcing that a World Tournament Wi-Fi Competition will start on June 29th. We don't know how this will work yet, but we'll bring it to you as soon as we know. I also added some game screenshots from the presentation throughout this news story. Also, here's Misty in the World Tournament and the World Tournament building.
Mesprit and Azelf are also in the games. No other info about them right now though.
Heatran, like Cresselia, can be encountered at Level 68. No other info about it right now though.
Here's a low-quality video of the battle against Achroma in the World Tournament, disco lights and all.
When you're in the finals of the World Tournament, the battlefield has colorful spotlights rotating all around it like a disco party or something.
We've found a clip of Homika and her band performing the Dogars (Koffing) song. As stated before, I wonder how they'll localize the song for each language.
Here's Latios in the Dreamyard as well, though we're not sure which version it is (it's probably Black 2).
Another picture of the Latias encounter, her info, and her moves (Psycho Shift, Psychic, Heal Pulse, Charm). She comes at Level 68 with Levitate and without any held items. She is found in the Dreamyard in White 2 and presumably Latios is found in Black 2's.
As mentioned earlier, Black Skyscraper is in Black City and we now know that White Woodland is in White Forest. They apparently feature a bunch of Trainers you can battle and take quite some time to get through. Banjirou, Alder's grandson, can be challenged in both.
Dialga, Palkia, and Giratina's Adamant, Lustrous, and Griseous Orbs are found in the Dragonspiral Tower.
There are secret openings around Unova that give you access to Pokemon with their Dream World abilities, such as the aforementioned Minccino, as well as Amoonguss and Jellicent.
At some point in the game you also receive N's Pidove. It seems Pokemon he has owned are all over the place, since as we saw in BW1, his team is always comprised of Pokemon from whichever area you battle him.
Regirock is found in the game at Level 65. So much for R/S remakes…
Iris: Level 81 Hydreigon, Level 81 Salamence, Level Aggron, Level 81 Archeops, Level 81 Lapras, Level 83 Haxorus.
Fighting-type E4 Member: Level 77 Sawk, Level 77 Throh, Level 77 Lucario, Level 77 Mienshao, Level 77 Machamp, Level 79 Conkeldurr.
Psychic-type E4 Member: Level 77 Musharna, Level 77 Alakazam, Level 77 Gothitelle, Level 77 Gallade, Level 77 Reuniculus, Level 79 Metagross.
Dark-type E4 Member: Level 77 Honchkrow, Level 77 Scrafty, Level 77 Krookodile, Level 77 Houndoom, Level 77 Tyranitar, Level 79 Bisharp.
Ghost-type E4 Member: Level 77 Cofagrigus, Level 77 Gengar, Level 77 Froslass, Level 77 Drifblim, Level 77 Golurk, Level 79 Chandelure.
In Challenge Mode, the E4 has different teams:
Black Kyurem comes at Level 70 and knows Fusion Bolt, Freeze Shock, Dragon Pulse, and Imprison.
You have to go to the Dragonspiral Tower where Zekrom/Reshiram will be available for capture. Once you capture it, you take it to the Giant Chasm and it merges with Kyurem and becomes Black Kyurem or White Kyurem. It does so using an item, which can also be used to change it back. You then capture it.
You can battle N. He has a Level 70 Zekrom in Black 2. When you fight him, the Plasma logo is missing from his VS screen.
The male/female character from BW1 is searching for N.
Cilan is seen working at a restaurant.
Cresselia can be battled at Level 68 on Marvelous Bridge after you obtain the Lunar Wing from the Stranger House.
Alder has a grandchild that you can battle in Black City's "Black Skyscraper." You have to defeat several Trainers before reaching him.
Alder can be battled at Sangi Town and has a Level 60 Accelgor, Level 60 Escavalier, Level 60 Bouffalant, Level 60 Conkeldurr, Level 60 Briaviary, and Level 62 Volcarona, all male.
Lenora is still in the games and can revive your fossils.
Professor Juniper will give you the Master Ball in Mistaltron City.
Wild Eevee can be found at a small park in Castelia City.
There's a new town called Yamaji Town (ヤマジタウン).
You can also receive N's Sigilyph.
The player on 2ch defeated the E4 with this team. We're betting his Level 100 Mewtwo was a big help.
IRIS IS THE CHAMPION! Her team is Level 57 Hydreigon, Level 57 Druddigon, Level 57 Aggron, Level 57 Archeops, Level 57 Lapras, and Level 59 Haxorus.
Fighting-type Elite Four Member: Level 56 Throh, Level 56 Sawk, Level 56 Mienshao, Level 58 Conkeldurr.
Psychic-type Elite Four Member: Level 56 Musharna, Level 56 Sigilyph, Level 56 Reuniclus, Level 58 Gothitelle.
Dark-type Elite Four Member: Level 56 Liepard, Level 56 Scrafty, Level 56 Krookodile, Level 58 Bisharp.
Ghost-type Elite Four Member: Level 56 Cofagrigus, Level 56 Drifblim, Level 56 Golurk, Level 58 Chandelure.
The Elite Four are divided into rooms like B/W and you can battle them in any order.
2ch player feels that, unlike Black and White, the game's main storyline ends with you defeating the Champion, not someone else.
Also, you apparently CANNOT catch the Kyurem forme in your game (when you first encounter it).
Ghetsis' Team: Level 50 Cofagrigus, Level 50 Eelektross, Level 50 Drapion, Level 50 Toxicroak, Level 50 Seismitoad, Level 52 Hydreigon.
Regigigas will also appear in the game.
You fight your version's Kyurem forme sometime after beating Achroma. It is at level 55. It also has a really cool battlefield.
Latias is in the game. Presumably Latias for one, Latios for another. Hoenn…
Achroma's team: Level 50 Magneton, Level 50 Magnezone, Level 50 Metang, Level 50 Beheeyem, Level 52 Klinklang. Also, he apparently has an impressive battle theme.
Iris is in the game. She appears while you're talking to a guide, seemingly in Castellia City.
4th Move Tutor found: Worry Seed, Gastro Acid, Helping Hand, After You, Magic Room, Wonder Room, Spite, Recycle, Trick, Stealth Rock, Outrage, Endeavor, Sleep Talk, Skill Swap, and Snatch.
Update on the Wi-Fi disconnect thing. If you disconnect during a Wi-Fi/Random match, you will not be able to participate in a Tournament or a Random Match for 1 hour.
2ch Player is talking about a new Item Registration system. He says that the old way of registering items is gone, and is replaced with a new "Free Space," which you can store items of your choosing. No details on how exactly it works, though.
More Pokemon found in-game: Absol, Banette, Drapion, Seviper, Driftblim, Sneasel, Mantine, Altaria, and Starmie.
Shizui's team: Level 49 Carracosta, Level 49 Wailord, Level 51 Jellicent, all Male. He gives you TM55 Scald for beating him.
Move Tutor goodness: Bind and Snore for 2 Yellow Shards, Heal Block and Knock Off for 4, Synthesis and Roost for 6, Sky Attack and Role Play for 8. Move Tutor also has Heat Wave, Giga Drain, Drain Punch, Pain Split, and Tailwind for an unknown amount of shards.
A picture of Virizion on the map, after the world freezes over. It seems that not all of Unova is frozen – at least, there are parts that remain intact.
During Frozen Unova, you fight the Shadow Triad. First member is named "Dark.". Interestingly enough, his trainer class is "Team Plasma," not "Shadow Triad."
Here's a picture of Frozen Unova.
Soon after you beat the 7th gym leader, the world freezes. Unknown if it's just parts of Unova, or the entire map: by the way the poster phrases it, it could very well be a world-wide freeze.
Drayden's team: Level 46 Druddigon, Level 46 Flygon, Level 48 Haxorus, all male.
More pictures: an Emboar fighting a Level 35 Volcarona (unknown if it's a Trainer's or a wild Pokemon), and a screen of TM95, Snarl, meaning it's obtainable in-game. Also, have a high-res Xtransceiver Mom picture.
Just like Cobalion, Virizion is also found standing in the open.
The 2nd gym's music features what appears to be Homika singing "D-O-G-A-R-S," which is the Japanese name for Koffing, her featured Pokemon. We're not sure if it's actually real though. Wonder how they'll localize it for other languages if it is.
Earlier in the game (around when you are level 20-25), you get (have the opportunity to catch) a Level 20 Minccino at the "Hidden Burrow," with its hidden ability, Skill Link.
2ch Player says that he's on his way to Opelucid City. However, given his statement that he was near Undella/Lacunosa Town, this potentially means that you will be going to Eastern Unova. Interesting, because Skyla and Clay are on the Western side.
Another Move Tutor. Teaches the moves Last Resort and Iron Defense for 2 Blue Shards, Magnet Rise and Magic Coat for 4, Block, Hyper Voice, Electroweb, and Icy Wind for 6. Other moves he teaches include Iron Tail, Aqua Tail, Earth Power, Zen Headbutt, Foul Play, Superpower, Gravity, Dragon Pulse, and Dark Pulse, but we don't know for how much.
Apparently, if you turn off your DS/disconnect during a Wi-Fi match, the game will not let you Wi-Fi battle for a while. Your public rating will also go down.
After clearing the game, you will be given a Key. This key allows for changing the game's mode between Normal Mode (standard levels), Assist Mode (Trainers' level will go down), and Challenge Mode (levels will go up). The Key also allows for the changing of Black City to White Forest and vice versa.
Some shots of the game's manual, detailing the new Unova Link feature.
Skyla's team: Level 37 Swoobat, Level 37 Skarmory, Level 39 Swanna. All are female.
Evolutionary Stones, Macho Brace and some Lenses (Scope and Wide) can be purchased with BP.
More Pokemon found in the game: Ratatta, Grimer, and Zubat. Yes, that's right. Zubats are back.
The male character's default name is Kyouhei.
Some old Pokemon that can be found include Budew, Roselia, Baltoy, Nosepass, Cleffa, Combee, and Castform.
Through an in-game event at the Weather Facility on Route 6, the player got a Deerling with its Hidden Ability, Serene Grace. It's female and at Level 30. Picture below.
The World Tournament has different battle theme music for the finals.
You meet Achroma in the World Tournament finals. He's got a Magneton, as seen in the promotional anime commercial.
You have to play in the World Tournament as part of the story.
The Move Deleter and Move Relearner are now located inside the World Tournament building. The guy who tells you your Pokemon's Hidden Power is also there.
Repel can now be used again without going into the menu. After one runs out, it asks you "Repel's effect ran out. Use another one? Y/N?"
Using a new feature called "Unova Link," you can connect to the opposite version of your game and get Black City or White Forest depending on which one you don't have by default. UPDATE: This Unova Link feature happens when you have the Key post-game, mentioned below.
Clay's team is Level 31 Krokorok, Level 31 Sandslash, and Level 33 Excadrill, all male.
You get a Zorua as a gift when you're in Driftveil. Its OT is N and it's a Level 25 male.
Iris is not a Gym Leader in Black 2 or White 2. :(
The move tutor is in Driftveil City like in B/W, as pictured below (picture #10). He can teach Covet and Bug Bite, which cost 2 Red Shards; Drill Run, Bounce, Signal Beam, and Iron Head for 4; Super Fang and Uproar for 6; and Seed Bomb, Dual Chop, Low Kick, Thunderpunch, Fire Punch, Ice Punch, and Gunk Shot for an unknown amount.
The World Tournament is based in Driftveil City where the Cold Storage used to be.
You're forced to have a rotation battle to proceed in Driftveil City. The character blocking you is Biker Charles.
This early in the game, there's not much in Anville Town.
You can borrow a Riolu from Pokewood.
The female player is named Mei (メイ) by default.
You will have Cut, Strength, and Fly by the time you leave Nimbasa City. The player notes that there isn't much to use Cut and Strength on, though.
To get into the Battle Subway, you have to battle the Subway Bosses first. You meet them and the opposite-gendered character outside of it.
Elesa's team is Level 28 Emolga, Level 28 Flaffy, and Level 30 Zebstrika, all female. Her Gym is like a fashion show.
Both games are region locked for the DSi and 3DS. The cartridge codes start with "TWL," which is what that stands for.
Burgh's team is Level 22 Swadloon, Level 22 Dwebble, and Level 22 Leavanny, all male.
The rival's default name is Hugh/Hue/Hyuu (ヒュウ).
After you beat Homika you have to participate in Pokewood.
Player #2 is battling Cheren, who is holding books. His Gym is a Trainer school.
As we already knew, and as you can see below, you can trade Pokemon immediately after you get your C-Gear. Even a Level 100 Mewtwo.
The HP/EXP meters have black backgrounds in Black 2 and white backgrounds in White 2.
(This list goes from newest to oldest, so down here is the oldest information, while the top is the newest. You read down to up.)
Japanese Player #1 (Black 2)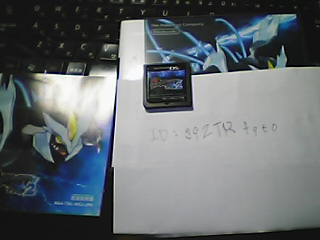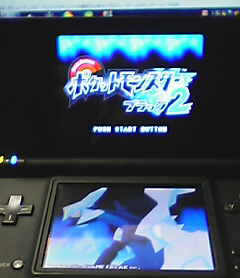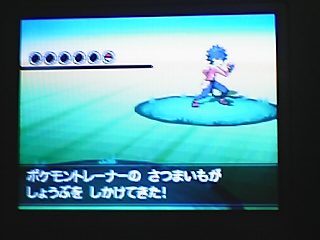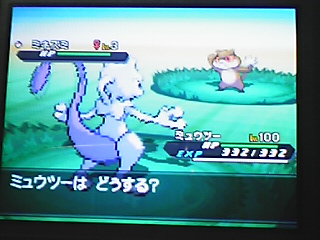 Japanese Player #2 (White 2)