'CoroCoro' Leaks, Only Reveals Movie 15's Release Date
CoroCoro has now leaked in full, revealing that Kyurem vs. the Sacred Swordsmen will debut in Japanese theaters on July 14th next year, as you can see below. The movie teaser poster seems to depict Cobalion, Terrakion, and Virizion preparing to attack Kyurem. Oddly, they are staring at the center of the picture, not Kyurem's face. It seems like they're combining their powers into something, a sort of sword – could Keldeo be hidden behind the text?
The magazine also has a few pieces of information, which Gin has kindly translated for us: "To protect Pokemon, they battled with mankind." "What will happen between these three and Kyurem?" "Is it proof they are Sacred Swordsmen that they can use the skill 'Sacred Sword?'" So it seems the trio's basic back story of fighting mankind is preserved for the film. Kyurem's description says, "Even its body is frozen due to its immense freezing powers."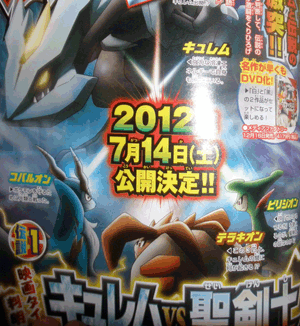 In other movie news, the All About Pokemon Figures blog has done some research and has discovered that location scouting for this movie took place in Mexico. The blog also analyzed the movie logo that was revealed the other day and pointed out that it seems to represent the three Legendary Pokemon as well as Keldeo, as you can see below – you can see the three colors that represent them plus Keldeo's reddish mane. More importantly, the blog pointed out that the movie logo's filename on the official Pokemon website has "teaser" in it, meaning that the logo is not the final one and will probably be changed to include Keldeo early next year (not that we didn't already figure that).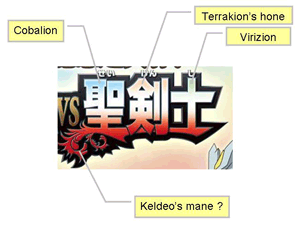 The magazine did not reveal any new game information, which means the surprise announcement at this year's Jump Festa trade show will probably just be the revealing of Keldeo, if even. (Though we could be surprised, who knows!)