'Victini and Zekrom' Movie to Play in Theaters December 3rd and 4th!
The English titles for the two Victini movies have been revealed – Pokemon the Movie Black: Victini and Reshiram and Pokemon the Movie White: Victini and Zekrom. And for the first time since Pokemon Heroes back in 2003, we will have a Pokemon movie playing in actual movie theaters – Victini and Zekrom will be shown on December 3rd and December 4th in over 300 theaters! (Victini and Reshiram will not, though the press release hints it will eventually be shown somehow.) Full details are in the press release below. Let me be the first to say ZOMG!!!! It's about freakin' time!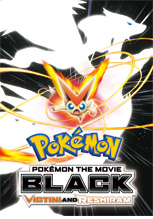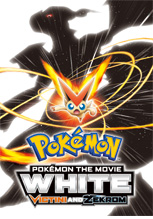 U.S. Theatrical Premiere of Pokemon the Movie: White–Victini and Zekrom Announced

Cinedigm Digital Cinema Will Release Brand-New Pokemon Film to More Than 300 Digital Theaters in December for One-Weekend Special Engagement

WOODLAND HILLS, CA– Pokémon™ fans across America will be marking their calendars for a special limited engagement theatrical event this holiday season. The newest full-length Pokémon feature film, Pokémon the Movie: White–Victini and Zekrom, is coming to movie theater screens across the U.S. for one weekend only: December 3rd and 4th, 2011! As a special treat, fans can catch the debut of the movie's trailer this weekend, September 17th and 18th, on www.Pokemon.com immediately following an on-demand, online screening of the most recent feature-length movie, Pokémon–Zoroark: Master of Illusions.

The Pokémon Company International has partnered with innovative digital theatrical distribution company Cinedigm (NASDAQ: CIDM) to share Pokémon the Movie: White–Victini and Zekrom with its devoted fans for this limited, one-weekend-only screening event in more than 300 digital theaters across the United States. Pokémon fans will catch all the action and find out whether Ash can awaken the Legendary Pokémon Zekrom to help him stop the misguided Damon and save the Victory Pokémon Victini! A complete list of participating theaters will be announced shortly.

"We are thrilled to provide fans an opportunity to see this exciting new Pokémon feature film on the big screen," said Jill Newhouse Calcaterra, Chief Marketing Officer at Cinedigm. "Pokémon fans are a passionate group and will truly relish seeing this film together."

"It's going to be a lot of fun for the entire Pokémon community to get together and watch Pokémon the Movie: White–Victini and Zekrom," said J.C. Smith, director of Consumer Marketing for The Pokémon Company International. "We're excited to be working with Cinedigm to make this special engagement possible across the country."

As part of a Pokémon first, Pokémon the Movie: White–Victini and Zekrom is one of two feature-length films debuting in December. Launch details about the second movie, Pokémon the Movie: Black–Victini and Reshiram, will be coming soon.
Movie Summaries

During their travels through the Unova region, Ash and his friends Iris and Cilan arrive in Eindoak Town, built around a castle called the Sword of the Vale. The three Trainers have come to compete in the town's annual battle competition, and Ash manages to win with some unexpected help from the Mythical Pokémon Victini! It turns out Victini has a special bond with this place…

Long ago, the castle watched over the Kingdom of the Vale, and the partnership between Victini and the king protected its people who lived there. But that kingdom has since vanished into memory, leaving behind powerful relics and ancient Pokémon. Damon, a descendant of the People of the Vale, is trying to restore the lost kingdom with the help of his Reuniclus [Gothitelle in Reshiram]. His quest has taken him to the far reaches of the barren desert [frozen tundra], and he has convinced the Legendary Pokémon Reshiram [Zekrom] to join him in the search for truth!

Damon plans to trap Victini and harness its power, and as that plan gets under way, the entire town of Eindoak faces disaster! Can Ash awaken the Legendary Pokémon Zekrom [Reshiram] to help him stop Damon and save Victini? Will we one day be able to come up with better rhetorical questions? The greatest adventure in Pokémon history approaches!