New Teaser Trailer for Victini Movies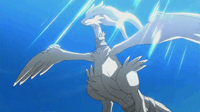 The Pokemon movie website has updated with a new teaser trailer for the Victini and the Black Hero: Zekrom and Victini and the White Hero: Reshiram movies. The trailer reveals that both Zekrom and Reshiram will talk. You can watch it on the movie website by clicking here.
Additionally, CoroCoro magazine revealed today all the details about the Victini that players can download when they preorder a ticket to one of the movies. The Victini will come at Level 50, holding a Fire Gem and with a Wish Ribbon, and will be inside a Cherish Ball. Its attacks are V-Create, Searing Shot, and Zekrom and Reshiram's Fusion Bolt and Fusion Flare moves. Players can preorder movie tickets from April 16th to July 15th and can go download the Victini from April 16th to August 31st. On a related note, the Pokemon that can be downloaded at the actual movie theaters has yet to be revealed.