Battle Strength Decks: Virizion, Terrakion, Cobalion
It seems that Japan is not getting the second Black and White set just yet – on March 18th, three 30-card decks featuring the Musketeer Trio will be released for 780 yen each (higher than the typical 500 yen price tag). Virizion's deck will center around Grass, Fire, and Water-type Pokemon, Terrakion's will have Fighting, Psychic, and Lightning-type Pokemon, and Cobalion's will use Metal, Darkness, and Colorless-type Pokemon. The decks will come with a "Battle Strengthening Guide" which will apparently teach players how to build professional decks, which is probably why the cost is higher than usual.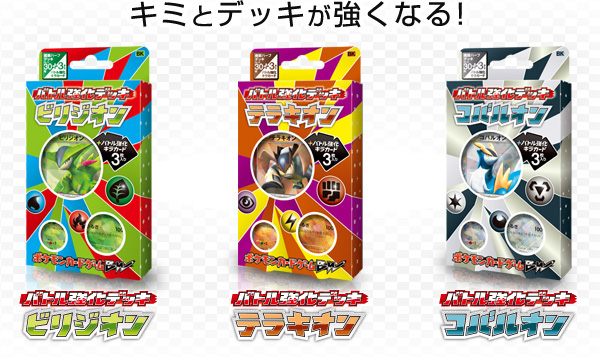 Each deck will feature its Legendary Pokemon in the glassy reverse holofoil that up until now has only been used for certain promo cards in America and for special set cards, like the Rising Rivals Rotom cards. The Legendary Pokemon will know two attacks – one attack associated with their type and in-game movepool, such as Giga Drain for Virizion (and probably Iron Head for Cobalion and Rock Slide for Terrakion), as well as their trio's signature attack – Sacred Sword. Click the thumbnails in this story to enlarge them. Thanks goes to forum mod Viper.Fox for notifying us about this!