Last Two Blaine's Quizzes
I'm getting ready to apply to UCLA for film grad school so my time is a little limited. There really isn't much Pokemon news in the wake of Black and White anyway so it's the perfect time to go off and do things! ;)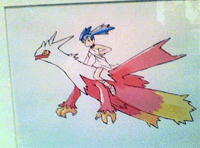 Last… time's Blaine's Quiz asked about early Pokemon designs. The answer is quite interesting, as you can see to the right. Of course, the "Pokemon" you see was obviously split into Blaziken and Latias. I wonder if any other Pokemon were ever originally a single entity or even split into two? We know many Pokemon originally looked different: Torchic originally had floppy ears.
In terms of early Pokemon designs, which of the following was originally a single Pokemon but was later split into the Pokemon they are today?

Lunatone and Solrock (29.0%, 13,458 Votes)
Uxie, Mesprit, Azelf (23.0%, 10,543 Votes)
Blaziken and Latias (21.0%, 9,613 Votes)
Flygon and Salamence (12.0%, 5,624 Votes)
Heracross and Gligar (6.0%, 2,713 Votes)
Vulpix and Ponyta (6.0%, 2,649 Votes)
Scizor and Ampharos (3.0%, 1,300 Votes)

Total Voters: 45,904
This poll was first posted a year ago today and removed in July. Totally pathetic, but it's so hard to come up with good quiz questions! The correct answer was Family Guy. If I waited any longer they might have done a Pokemon spoof, but alas, still nothing. Come on Seth!
Which of the following has NOT parodied or referenced Pokemon?

Heroes (NBC) (42.0%, 19,883 Votes)
Family Guy (Fox) (13.0%, 6,388 Votes)
Everybody Loves Raymond (CBS) (13.0%, 6,331 Votes)
Malcolm in the Middle (Fox) (12.0%, 5,558 Votes)
Milk Chan (Adult Swim) (10.0%, 4,836 Votes)
The Simpsons (Fox) (6.0%, 2,719 Votes)
Robot Chicken (Adult Swim) (4.0%, 2,082 Votes)

Total Voters: 47,797