Yellow Forest Pokewalker Route Available Starting Today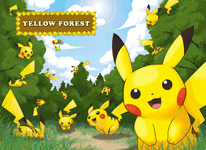 You can now download the Yellow Forest Pokewalker route to HeartGold and SoulSilver via Wi-Fi's Mystery Gift. The route is full of Pikachu, some of which know Fly and Surf, moves Pikachu cannot normally learn. A Flying Pikachu promo card was first released in Japan in 1996 and then a Surfing Pikachu promo was released in 1997; the idea of Pikachu flying or surfing comes from these cards. Pika powa!
The Yellow Forest event will last from today until May 5th. After you download the route and pick it up from the deliveryman inside any Poke Mart, you will then be able to transfer it to your Pokewalker. Instructions on how to do this are available at the Pokemon.com link above. Originally, this event was held for the Japanese games in September and November of last year and then again this past February.