More Hints of New Pokemon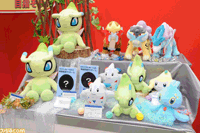 Video game magazine Famitsu has gained early access to this weekend's Tokyo World Hobby Fair and has posted a photo that shows a display advertising upcoming Pokemon movie 13 merchandise. Two question marks are among the products, with one saying "New Plush Pokemon (A) appearing in the movie" and "Plush Diamond and Pearl Pokemon (B) appearing in the movie." Click the thumbnail to the right for a larger image.
This exact same type of setup appeared two years ago for the Shaymin movie, with one of the question marks turning out to be Shaymin Sky Forme. It is outright stated that Pokemon A is a new Pokemon (whether that means brand new Pokemon or Forme, we do not know), though Pokemon B's status is a little ambiguous – it is stated to be a Diamond and Pearl Pokemon without the word "new," but why hide it? Could it be a new Forme of a 4th generation Pokemon or simply an existing Diamond and Pearl Pokemon that they are hiding just so fans don't know all of the products associated with the movie? As fans all we can do is speculate right now, but CoroCoro is set to reveal a "surprising" Pokemon that will be in the 13th movie in their next issue.