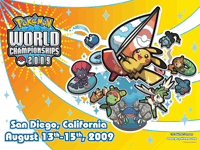 Go-Pokemon's 2009 Worlds mini-site is now up. While not much is posted yet, the site reveals that Junichi Masuda (Pokemon games director), Tsunekaz Ishihara (President of the Pokemon Company), and Takeshi Kawachimaru (director of Platinum) will be the guests of honor. Both Mr. Masuda and Ishihara attended Worlds last year in Florida, while this is Mr. Kawachimaru's first time.
The website spills that the prerelease promo card for Supreme Victors is Milotic from Pulse of the Frontier. Prerelease tournaments will take place at Worlds like usual this year.
Wallpaper featuring a surfing Pikachu is also available for download, as seen to the right. Select your screen resolution from the following links and then save the image: 800×600, 1024×768, 1280×1024, 1440×900.