Seven-Minute Arceus Movie Trailer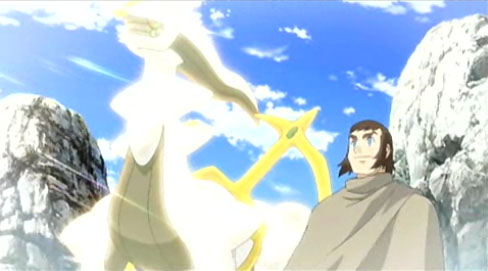 A seven-minute trailer for Arceus: Space-Time Conquered has been posted on Yahoo Kids. Most of it contains scenes not shown in previous trailers. It also features the voice actors in the movie, the movie's orchestra, the background music for the remixed "High Touch" song, and a video of the artist who sings the ending theme song. You may need to download Microsoft Silverlight to watch it; the link will show up on the website if you do not have it installed. The trailer will be deleted after July 21st, so watch it now while you can! Thanks go to Frugrow for giving us the heads up on this story!
The movie will begin playing in Japan on Saturday. You can read our summary of it by clicking here. The summary will be updated after I see the movie again on Saturday.
One random thing I forgot: The mother from the beginning of Lucario and the Mystery of Mew who reads the story of Sir Aaron is in the ending credits of the movie with her daughter. They were also in The Rise of Darkrai and Giratina and the Sky Warrior. They must be stalking Ash and crew!