Trading Figure Game Section Removed from Go-Pokemon Site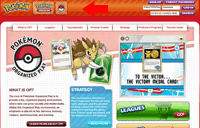 The Trading Figure Game section on the Go-Pokemon website completely vanished yesterday, sparking fan speculation that the game has finally been discontinued by the Pokemon Company.
The second TFG set, Groundbreakers, was supposed to see a widespread release in stores last year but was delayed several times. The last release date for the set was supposedly March 31st but never happened. Earlier in 2008, a third TFG set was also announced by TPCi, but it will probably never see the light of day now.
Due to the constant delays and the fact that a new set has not been released in ages, it is probably safe to assume that either the TFG has been discontinued completely or put on an indefinite hold. TPCi most likely wants to focus their time and effort on the TCG and video game's organized play rather than an unsupported spin-off game.