Secret Key Download at Canadian TRU Stores
Got my laptop back! Yay! Update time!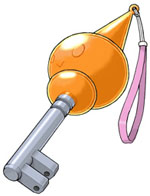 The official Canadian Toys R Us website has announced that the retail chain will have Secret Key downloads later this month. The item grants you access to a special room where you can expose Rotom to several household appliances, which induce its Mow, Heat, Wash, Frost, or Fan Forme.
Exclusive Pokémon Platinum Version in store event! Get the Secret Key. Unlock the secrets in-stores between April 19th to 26th. Only the secret key lets you change Rotom's form in Pokémon Platinum. Be sure to bring in your Nintendo DS and Pokémon Platinum Version!

Nintendo DS hardware and Pokémon Platinum version required to participate.
Since it is doubtful Canada will be the only country receiving the Secret Key download at Toys R Us, it is probably safe to assume America's downloads will begin around the same time. An announcement might be forthcoming.
If you have a Japanese and English Platinum game, you can already receive the Secret Key on your English version! This will only work if you still have the Secret Key Wonder Card on your Japanese game, obviously. Go to the main menu of the Japanese game, select "Mystery Gift," find the Secret Key card, then pick "Check Card." Choose the "Send to a friend" option and then be ready to receive the Secret Key Wonder Card on your English copy from the Mystery Gift menu. This is the only Wonder Card that has not been region-locked, which is why it can be sent to a foreign game. Thanks go to Skitty for this tip!