"Pokemon Adventures" Wins Nickelodeon Magazine Award
HA! Next time you hear someone say Pokemon is dead you can either use Mega Punch on them or point them to articles like this. :)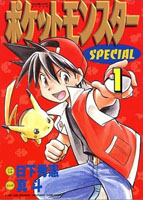 The Best of Pokemon Adventures manga has won the award of "Best Manga Series" from Nickelodeon Magazine. Pokemon competed against other popular manga like Naruto, One Piece, and Fruits Basket and was chosen by a pool of 17,000 voters as the winner. Details of the award are in the press release below.
Nickelodeon Magazine, the leading entertainment and humor magazine for kids, announces the winners of the first Nickelodeon Magazine Comics Awards. The eight winners, chosen by more than 17,000 readers, are featured in the April 2009 issue of Nickelodeon Magazine- currently on newsstands. The Nickelodeon Magazine Comics Awards-the first major comics awards for kids-honors the best comic books, strips and graphic novels for kids published across the U.S.

"Our readers have spoken, and thousands have cast their votes," said Laura Galen, Editorial Director of Nick Magazine. "This contest presented us with a great opportunity to engage our readers and make them a part of the editorial process. We hope they'll enjoy seeing their favorites in print."

Over a six week period (Nov. 24-Dec. 31, 2008), readers cast their votes for their favorite comics and characters across eight categories through a mail-in print ballot and online at http://www.nickmag.com. Readers selected their favorite graphic novels, fantasy graphic novels, comic book series, comic strips, manga series, cutest comic characters, best hair in comics and grossest thing in comics.