Maddie Blaustein Passes Away
Update (3:00 PM): 4Kids has officially announced Maddie's death.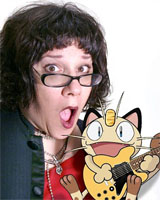 Maddie Blaustein, voice actress of Meowth under 4Kids, passed away last Thursday in her sleep after reporting that she did not feel well. She was 48 years old. Her funeral will be held today in her hometown, and a memorial service will take place at a later time. This is according to one of her 4Kids colleagues we phoned, who wishes to remain nameless.
Ms. Blaustein was the voice behind Meowth for eight years and proved to be very dedicated to her character both during the show's run under 4Kids and after, fighting Pokemon USA when 4Kids lost its dubbing license for Pokemon. She was also involved in several other shows under 4Kids, providing a plethora of voices for various characters, and also even worked for Marvel Comics and DC Comics as an artist and writer. Maddie was definitely talented, and it is both a shock and a shame that she is gone.
An official statement will be released tomorrow regarding her passing.