New 'Pokemon Platinum' Trailers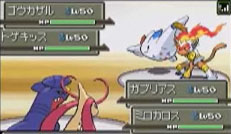 The official Pokemon Platinum website updated yesterday with four new videos, two of which we've already seen before, but now in better quality.
The first video talks about Giratina Origin Forme and Dialga, then shows them battling. The second video is a two-on-two double battle with Togekiss, Infernape, Garchomp, and Milotic, then later a double battle with Garchomp, Weavile, Dusknoir, Infernape, Milotic, and Floatzel. The third video is a mini-trailer for Platinum we've already seen, while the last video is the trailer shown at Pokemon Festa 2008, but in much better quality than the one originally posted here from the event.