EDIT: Whoops, I meant April, not March.
---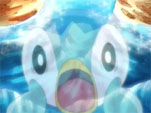 Second Mystery Dungeon Special Air Date – According to the most recent issue of Nintendo Power, the second Mystery Dungeon TV special will air during the weekend prior to the game's release date of Monday, April 21st (most likely the Friday or Saturday before, April 18th or 19th).
The special features a human who wakes up one day to discover he is a Piplup. He then joins up with a Chimchar and Sunflora to fight a Gabite (if I recall the plot correctly). The special was previously available last September to watch on TV Tokyo's website, but has been removed since then.
---
Brawl Pokemon Trainer Voice – Someone obtained an early copy of "Super Smash Bros. Brawl" and has recorded Pokemon Trainer's voice. Click the play button on the YouTube video below to hear it.