A very quick update!
---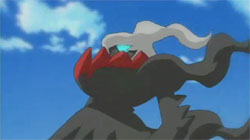 New "Dialga vs. Palka vs. Darkrai" Trailer – The official Japanese Pokemon movie website has updated with a new trailer for the 10th Pokemon movie, Dialga vs. Palkia vs. Darkrai. The entire first half of the trailer contains scenes from the first trailer, but there are now new scenes featuring Darkrai, the characters of the movie, and Ash riding a Pidgeot (hmmm…). To view the trailer page, you can click here.
---
Pokemon D/P Airs Tonight – Cartoon Network will be airing the first three episodes of Diamond and Pearl tonight at 8:00 PM, where we will finally hear Dawn's dub voice and watch Diamond and Pearl in America for the first time! If I have not fallen asleep after coming home from school, I will record the episodes and post them later for a temporary time to view, in case anyone misses them. Remember, Diamond and Pearl for the Nintendo DS come out on Sunday, and if you buy them, be sure to check out PokeBeach's Wi-Fi League, where you can arrange trades, battles, and tournaments for Diamond and Pearl!