PBR, Mystery Dungeon Contest
The new PokeDex is coming soon.
---
EDIT:Grinders Return and TCG Event Information – According to a press release just released by PUI, the Grinders (Last Chance Qualifier) for Worlds has returned. I have created a page detailing the descriptions for each type of premiere event based off of the press release, which you can read by [clicking here]. A PUSA official has now confirmed that the Grinders will be taking place the Friday before Worlds and that the press release is not incorrect about it.
---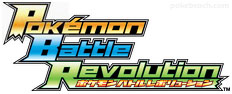 Pokemon Battle Revolution Screenshots – New screenshots for Pokemon Battle Revolution have been released, and we have them for you to view on this page. The graphics look pretty awesome, as does the scenery!
---
Mystery Dungeon Contest! – Nintendo.com is holding a Pokemon Mystery Dungeon art contest for all of you talented Pokemon artists! All you have to do is create and submit art depicting "why you have turned into a Pokemon and what your life as a Pokemon is like," since as we all know, in Mystery Dungeon, you wake up one day as a Pokemon and have to adapt to your new life. You can read more information about the contest on the rule page or in the how to play guide on the contest's website. There are also prizes if you are one of the top winners!