Ken Art, Card Review, BR Video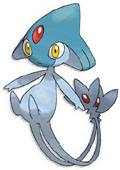 Remember childrens, the pre-releases for EX Dragon Frontiers are the weekends of October 28th and 29th and November 4th and 5th. You can check for locations by clicking here. If you think you can scan cards for us, please e-mail me for details on how to scan the cards.
---
Ken Sugimori DP Art – All released [Ken Sugimori] Diamond and Pearl Pokemon art has been added to the [Ken Sugimori Pokemon page]. Currently, we have fourty-two Pokemon images.
---
New Card Review – Today's INVALID CARD SHORTCODE features a Pokemon that is involved in the death of Jesse from Team Rocket's mom. What is this Pokemon? Why it's [Mew ex from EX Legend Maker]! To comment on this card and its reviews, you may post in this thread.
---
New Battle Revolution Video – The official Japanese Pokemon website has been updated with a new video on its Pokemon Battle Revolution page. You can watch the video by clicking here.