EDIT #1: We now have the top 32 results! Click here for the final standings! When I get home tonight, I will also have some POP 4 news and images, Abra and Kadabra card news, Diamond and Pearl news confirmed Fakemon news, and much more, so be sure to check back!
---
Worlds is underway, and thanks to Sarah S., I have some internet for now to update the site with. :p This may be my last time on the net while at Worlds, and if it is, I will update when I get home.
---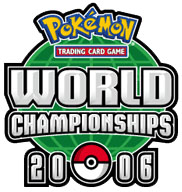 Current Worlds Rankings – I have taken pictures of the round 2 postings, which shows the current players' records and who they are now playing. You can view the pages below. Note that the names are in order of first name.
EDIT: Whoops, didn't see this before. You can find the most current results on the Worlds Mini-Site if you want to check how people are doing or what their standings are.
Here is a list of some of the better known players' decks, which was compiled by both myself and Matt Dunford.
Martin Moreno – Raichu / Exeggutor
Chuck Brosseau – Dragtrode
Ross Cawthon – Lunatone / Dark Electrode (?)
John Kettler – Ludicargo
Sebastian Crema – Electrode ex / Dark TTar (BombTrode)
Tom Dolezal – Ludicargo
Jason Klaczynski – Mewtric
Matt Moss – Banette ex / Medicham ex
Mike Pramawat – Banette ex / Medicham ex
Chris Fulop – LBS
Japanese players – mostly LBS
The Grinders, which ended around 3:00 AM last night (o_O), saw six of the Japanese make it through, with two Americans going to Worlds with them. Tsug. Yamato, one of the better known Japanese players, came in 12th place, missing out on Worlds, while Bangiras (who helps us with translations), justtt missed it by 9th place. :( Right now, there are so many players at Worlds that I would not be surprised if someone found their long lost twin, and I will be sure to update with more news, pictures, and info later on tonight when I get home!
---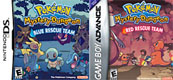 Pokemon Mystery Dungeon Pre-Sale Bundles – PokemonCenter.com is offering several different bundles of Pokemon Mystery Dungeon for people to pre-order, each coming with a 10 inch plushie of Mystery Dungeon Squirtle or Mystery Dungeon Charmander (with their own bandanas). The plushies are exclusively available with a pre-order on this site, and there is an extremely limited quantity of each (about a 1000 or so). If you want to get those plushies and have the game before anyone else, you better check out the different deals!