Posting again so people see: From now on, I am not going to wait until the day ends to post news. I am just going to post it when I find it. So, be sure to always scroll down incase anything has been posted.
---
Diamond and Pearl Box-Art – Wow, I think we are the first site to post this Diamond and Pearl stuff. Look below this paragraph for the Diamond and Pearl boxart for the Nintendo DS! It features the two legendary Pokemon we saw on that magazine cover from the other day. The release date is apparently September 28th in Japan.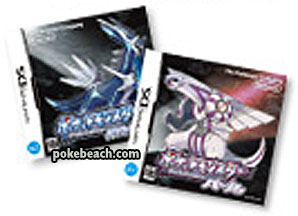 ---
Diamond and Pearl Video – the FIRST Revealed – You saw this here first. An actual video of the girl trainer walking in Diamond and Pearl! The music seems pretty R/S to me, but whatever – maybe it will improve as the game comes closer to being completed.