Wednesday – May 18th, 2005
The Next American Set – EX Unseen Forces
GreatFox from [Pokemon Labs], who attended the E3 Convention today, has informed me that the next American set will be named "EX Unseen Forces." What is interesting about this set name is that the next Japanese set is called Eidolon Forest, and has to do with ghost Pokemon, such as Banette ex. If I didn't know any better, I would say that ghosts are unseen forces. Could this mean that we will be skipping Golden Sky, Silvery Sea and will have a simultaneous release with Japan as we did with EX Team Rocket Returns? No one at this point except PUI knows (since the set is being printed right now), but it kind of looks like this will be the situation. I know I am only going off the set name as evidence, but it is kind of suspicious that the set name would be so closely related to the unreleased Japanese Eidolon Forest set. Also, this set should have its pre-release during and after Worlds, and will definately be released sometime in late August or early September. Tomorrow, GreatFox will have the set logo, and that could possibly give us more clues as to what this set is. Be sure to check back here!
Eidolon Forest News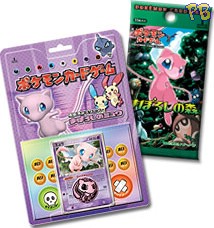 As we have reported in the past, the next Japanese set will be called "Eidolon Forest" and will involve Mew, Banette ex, and ghost Pokemon. A few days ago, the official Japanese website posted the theme deck and booster pack design for the set, as seen to the right. In the picture (from what I can make out), we can see Gardevoir, Seedot, Dunsparce (?), Tangela, Crobat, Venomoth (?), Plusle, Minun, Shuppet, and Swablu. Seeing as how we got a new Gardevoir and Altaria ex in our EX Emerald, it is probably not too farfetch'd to think that the Japanese Eidolon Forest set will have those cards. More on this set will be revealed as we get closer to its release date, which is June 30th for Japan.
New Modified To Be Announced Soon
Last Saturday, I talked to Mike Liesik (very nice guy, he is the OP Coordinator) at SoCal Regionals, and he told me that PUI will hopefully be announcing the new Modified by the end of this month. This new Modified will take into affect AFTER Worlds (remember, Worlds is R/S to Emerald since no more sets will be released before Worlds), and that they have to talk to their Japanese correspondents before they announce their final decision. We will bring you the new format change as soon as it is announced, so stay tuned!
New Age Division Break-Down?
There have been rumours floating around that after Worlds, a new age division break-up will take into affect. According to AXE from the PokeGym, someone had confirmed to him that this will in fact take into affect and will occur, although we cannot confirm that at this point. The new age division break ups, if this is to happen, will apparently be 12-, 13-17, and 18+. I totally hope that this is to happen, since I have wanted the age divisions to change for a while (and to that exact breakdown). We will bring you any news on this as soon as it breaks.
Pokemon XD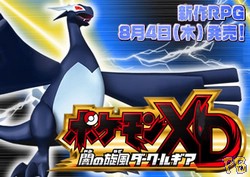 The second encarnation of Pokemon Colosseum, Pokemon XD ("Pokemon XD: Gale of Darkness" is its name for the American title), is scheduled to be released on August 4th in Japan and October of this year in America. The game will take place in the Orre region once again, and it looks like the goal of the game will be to snag and purify dark Pokemon as in Pokemon Colosseum. You also can probably catch the dark Lugia featured in the game towards the end, though this has not been confirmed (oh come on, like you won't be able to? XD). Not much info is known on the game as of yet, but the official Japanese Pokemon website has put up three pages with screenshots of the game, which you can view by clicking the links below.

[Page articUNO]
[Page zapDOS]
[Page molTRES]