Monday – January 31st, 2005
EX Deoxys Scans
Thanks to Metal Master, today we have some EX Deoxys scans from Nintendo Power. To see larger versions of the scans, click the thumbnails below. The Deoxys below (Normal, Attack, Defense) will come in the EX Deoxys set, and there will also be ex-versions of all three of them. It is unknown at this time to how many Rayquaza will be in the set, other than the Shining Rayquaza, but what we do know is that the main set, without any secret cards, will have 107 cards. Keep checking back here for all the latest news on EX Deoxys, and hopefully, we will have some scans and a set list of the set up on Saturday night.




EX Collector's Box
Toywiz.com has put up a page on a new Pokemon TCG product, the EX Collector's Box. The description of the box is as follows:
The EX Collector's Box is packed full of value! Each contains 2 EX Deoxys Booster Packs, 1 EX Team Rocket Returns Booster Pack, and two Pokemon Organized Play (POP) booster packs. To add even more value, the premium box is presented in two different versions (Deoxys & Rayquaza) and can store over 400 cards! This is a great storage organizer for Pokemon TCG collectors and players and provides exceptional cards that help you get prepared for battle!
The release dates for these boxes will be sometime in March, and they will both go for $12.99 each. To see both boxes, you can view their images by [clicking here].
No HP Dark Persian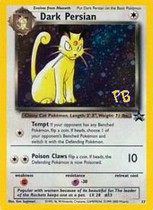 Recently, an error Dark Persian was sold on E-Bay for $760. What's special about this Dark Persian is that it was printed without any HP, which was an error made in the printing process under Wizards of the Coast. The error Dark Persian cards were originally meant to go into Nintendo Power, but the cards were destroyed because of their HP error, and new ones were printed up that had the correct HP. However, some people managed to get a few of the error cards before they were destroyed at the Wizards of the Coast plant, but many of them disappeared some time ago because of them being constantly sold. Nowadays, it is very hard to come across one, and if you do come across one, it will most likely be sold for a high price. To see two auctions for Dark Persian, both having ended, you can click [here] or [here]. Thanks to PokePop from the [PokeGym] for discovering the above auctions and posting about them!
More Quick Construction Packs
Thanks to E-Bay, we have some more Quick Construction Pack scans today. We will try to get some more up in the future, but for now, you can see some water scans by [clicking here], some grass scans by [clicking here], fighting scans by [clicking here], and colorless scans by [clicking here].