Saturday – October 16th, 2004
.:: Saturday – October 16th, 2004
Today we have some exclusive images that you will not be able to see on any other website.

World Championship Decks – Soon Available
Thanks to monkeycat who sent us these images, we now have your first look at some very special Worlds theme decks. The winners of the Pokemon TCG World Championships each had their theme decks made into real theme decks, and you will soon be able to buy them in stores. The theme decks contain most of the cards from the players' decks, such as Gardevoir, Blaziken, and Swampert (except they are non-holo versions), and all the cards in the decks have the players' signatures in the bottom right corners of the cards. Expect these decks to hit stores in a while, and when they do, we will be sure to tell you! To see an exclusive image that you cannot see anywhere else of the decks, you can click the thumbnail below.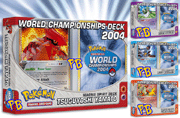 EX Team Rocket Returns Booster Box and Theme Deck Box
Also today, we have exclusive images of the booster box and theme deck designs of the English EX Team Rocket Returns set. To see larger images of them, click the thumbnails below.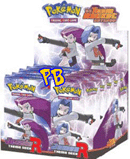 New Speed Deoxys and Rayquaza Card
In Japan, you will be able to get a Pokemon TCG tin which features Rayquaza and Deoxys' newest form, Speed! In the image below, you can clearly see a Speed Deoxys card as well as another Rayquaza card! To see a larger version of the image, click the thumbnail.
Alright, that's it for today. Tomorrow I have another debate tournament, and I haven't written my speeches yet, so I really need to get to work. On Sunday or Monday, we will have A TON of Japanese EX Team Rocket Returns scans, new American tins info and pictures, as well as EX Battle Stadium images, so be sure to check back! I would put these up tonight, but I am extremely tired and need to write my speeches. :)
.:: By: [Water Pokémon Master]