Friday – September 17th, 2004
.:: Friday – September 17th, 2004
Wow, I haven't updated this site in five days. School has been keeping me extremely busy, so I haven't had much time to update every day like I used to be able to. Anyways, I called Gateway today and they are fixing my laptop as we speak, so I should get it either this afternoon or early next week.

New Pre-Release Prize Structure
Thanks to farbsman from the PokeGym, we now know of a new way Nintendo will be awarding players who attend pre-releases. When you enter into a pre-release, you will get your usually 6 booster packs to make a 40-card deck. Then later after the tournament is over, you will receive an additional 4 booster packs, plus 2 OP series booster packs, which contains new promo cards. This means you will actually get a guaranteed 10 booster packs of the new set for only $15-20 (the amount you pay for entering a pre-release), plus the two OP series packs, which totals in 12 booster packs!

But there is more! The top players in each age category will also receive a trophy, medal, etc., just like with the original EX Ruby and Sapphire pre-releases. This is a great way to show off your pre-release wins, plus it allows you to have something to remember your winnings for the rest of your life.

There is one downside to this whole prize structure, which could be considered bad to some players and good to others. Players who come out in the top will no longer be able to earn booster boxes of the new set, which means that if you usually are in the top at pre-releases, this will be on the negative side for you. However, if you do not ever do well in pre-releases, since they are mostly based on luck, this will be good for you since you will get more packs of the new set than you usually do. This new system seems fair to all players, and will most likely attract more people to pre-releases.

Pokemon Rocks America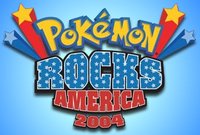 Pokemon Rocks America has returned again for its second year! The three cities the event will be held at this year are Atlanta (Oct. 9th), Minneapolis (Oct. 16th), and Seattle (Oct. 23rd). We will keep you updated on Pokemon Rocks America as more information on specific locations and events taking place are released!
Build a Deck Guide Re-Written
SuperWooper has totally re-written our Build a Deck guide for people who are new to the Pokemon TCG or that have not played in a while and need an update. If you are one of these types of people, or know someone who wants to learn how to build a deck, than be sure to read our guide and refer your friends to it! Before you decide to read the guide, you should check out our other various sections on the rules and terminology of the Pokemon TCG, or you will probably not understand some of the items in the guide. To read the guide, you can [click here]. Thanks SuperWooper!
.:: By: [Water Pokémon Master]