More Deoxys Cards, Scan Plans
More Deoxys Cards, Scan Plans
By: [Water Pokémon Master] — Saturday – June 26th, 2004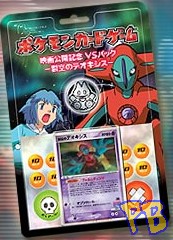 »Six New Deoxys Cards: The official Japanese Pokemon TCG website has posted six new images of Deoxys cards, which will be available though various products and events. The first and second Deoxys card (Normal and Attack) will both be in the Japanese Movie VS Deck (pictured right) that you can get when going to see the movie, along with a Gonbe coin! The third Deoxys card (Defense) will come with a Japanese magazine named Pokemon Wandaarando, while the fourth Deoxys card (the first one in the second row – Normal) will be released with Meiji chocolates. The fifth one (Attack) will be released at the Pokemon Festa this summer in Japan, and the last one (Defense) will be available with Japanese Shogakukan products. Wow, that's a lot of traveling for someone who wants to collect all of those cards! Hopefully when and if these cards are released in English, they will be easier to get. Thanks to TheRealWobbuffet from the PokeGym for the information on how to get the cards! Remember, we are and will be your #1 source for the Deoxys TCG set on the internet, so be sure to keep checking back!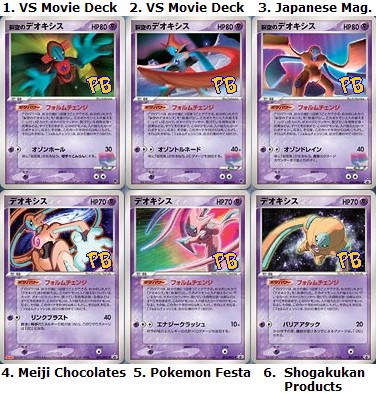 »Scan Plans: Today I worked on 1/3 of Neo Revelation. I am planning on finishing the rest of the set tomorrow, but if it is not finished tomorrow, it will be up either Sunday or Monday. By the end of the summer, we will have every card scan in high quality from every TCG set, and will be the first website on the internet to feature every card ever released in very high quality. Be sure to check back to see the scans!
News/Event Reminders


»Be sure to sign up for our Pokemon Apprentice League in the forums if you have downloaded Apprentice. If you want to download Apprentice and sign up for our league, join our message boards by [clicking here], and then going to Pokemon Apprentice League under Trading Card Game and reading through the three topics, which is where you download it and sign up.