Another New Pokemon, EX Hidden Legends Microsite Updated, Neo Discovery Scans Up
Another New Pokemon, EX Hidden Legends Microsite Updated, Neo Discovery Scans Up
By: [Water Pokémon Master] — Friday – June 25th, 2004

»Another New Pokemon: I have learned from a few of my Japanese friends that in the next issue of the Japanese magazine, CoroCoro, new Pokemon of the fourth generation will be featured! So far, we know that one of the fourth generation Pokemon is the pre-evolution of Snorlax, named Gonbe. However, today a new Pokemon of the fourth generation had its name released. Its name is Koitsu, and it will apparently be a water Pokemon. We will bring you more information on Koitsu and all fourth generation Pokemon as more information is released.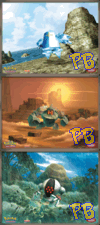 »EX Hidden Legends Microsite Updated: The official Pokemon TCG website's EX Hidden Legends Microsite was updated today with three new games and three new wallpapers. The first game is called Hide N Seek. The game involves you moving your mouse around a picture that reveals the answers to questions that are asked. For example, the game asks you what Stage 1 Pokemon is in the picture, and you move your mouse around to light up the picture for the answer. The second game is called Ruins Trivia, where you answer TCG questions and then move on to smashing rocks for keys to download your wallpaper. The third game is called Double-Up, and is where you match up Pokemon cards to each other after flipping over two cards at a time. Every time you win one of the games, you get a chance to download one of the three wallpapers, which are Regice, Regirock, and Registeel. To play the three games and to win the wallpaper, you can visit the EX Hidden Legends Microsite by [clicking here], and then clicking Games. If you do not want to play the games and want to go straight to getting the wallpaper, you can download them below:
Regice [800×600 – Small] [1024×768 – Medium] [1280×1024 – Large]
Regirock [800×600 – Small] [1024×768 – Medium] [1280×1024 – Large]
Registeel [800×600 – Small] [1024×768 – Medium] [1280×1024 – Large]
»Neo Discovery Scans Up: Today I got my laptop back from my parents and finished all of the Neo Discovery scans. To view the complete set list and all of the scans, you can [click here]. A big thanks goes out to Shakespeare who scanned all of the cards.
News/Event Reminders


»Be sure to sign up for our Pokemon Apprentice League in the forums if you have downloaded Apprentice. If you want to download Apprentice and sign up for our league, join our message boards by [clicking here], and then going to Pokemon Apprentice League under Trading Card Game and reading through the three topics, which is where you download it and sign up.