Next Japanese TCG Set, Layout Change, Jungle and Fossil Scan Status
Next Japanese TCG Set, Layout Change, Jungle and Fossil Scan Status
By: [Water Pokémon Master] — Saturday – May 22nd, 2004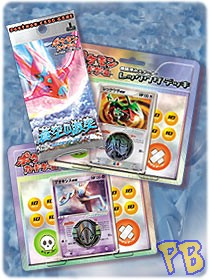 »Next TCG Set in Japan: The official Pokemon TCG Japanese site has put up information on their next set! The set will feature Rayquaza and Deoxys, and will be based on the 7th movie, which will also feature the two Pokemon. To the right, you can see one of the booster packs, which has a Deoxys on it. Also on the right, you can see a Rayquaza ex and Deoxys ex card. It is possible that this TCG set will also have the new Pokemon, Gonbe, since it gets a short little scene in the movie. The release date for the set in Japan will be July 1st.
»Layout Change: I changed the header to the three Deoxys forms. I hope you like it! If you look above this news story, there is also a new table I added where you can view all the news stories from the past week. All you have to do is click one of the titles, and they take you to the corresponding news story. I also added in a no-right click or highlight script, since people keep trying to steal our bandwidth by linking to our images. This way, people will not be able to view the image sources. Within the next few days, I will be doing some more layout changes.
»Jungle and Fossil Scan Status: I will have the Jungle scans up tomorrow as I finish up working on editing them. Shakespeare today sent me all of the Fossil scans, and I will probably be able to get those up by Monday or Tuesday (or possible tomorrow if I have nothing to do).
News/Event Reminders


»Be sure to sign up for our Pokemon Apprentice League in the forums if you have downloaded Apprentice. If you want to download Apprentice and sign up for our league, join our message boards by [clicking here], and then going to Pokemon Apprentice League under Trading Card Game and reading through the three topics, which is where you download it and sign up.