New Information on Gonbe, Scan Plans
New Information on Gonbe, Scan Plans
By: [Water Pokémon Master] — Tuesday – May 25th, 2004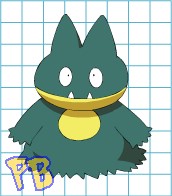 »New Gonbe Info: The official Japanese Deoxys movie site has released new information on the new Pokemon, Gonbe, as well as a new picture as seen to the right. Gonbe will weigh 230 pounds (forgive me if my conversion from kg to lbs is slightly wrong) and it will be 2 feet high. Obviously, this picture really shows that it is related to Snorlax, since it's jaws and ears are the same and it has the same coloring. Also, since it weighs less and is smaller than Snorlax, it would appear as if it would evolve into Snorlax. We will keep you updated on Gonbe as well as any future Pokemon.
»Scanning Plans: Today, Shakespeare sent me all of Neo Genesis and asked if I wanted Base Set 2. So, I sent him an email saying yes. Thus, PokeBeach should have three new TCG sets up soon, being Fossil, Base Set 2, and Neo Genesis. Be sure to keep checking back! (Ugh, I have lots of editing to do…)
News/Event Reminders


»Be sure to sign up for our Pokemon Apprentice League in the forums if you have downloaded Apprentice. If you want to download Apprentice and sign up for our league, join our message boards by [clicking here], and then going to Pokemon Apprentice League under Trading Card Game and reading through the three topics, which is where you download it and sign up.