Jirachi Wishmaker Promo
By: [Water Pokémon Master] — Tuesday – May 11th, 2004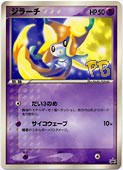 »Jirachi Promo #21: Nintendo Power has revealed in their latest issue that a Jirachi promo will come with Jirachi Wishmaker. Bet you didn't see that one coming. To the right is the Japanese version of the card, which will have the same art for the English version. Below is a text spoiler of the card, provided by GodTrainer from the PokeGym:
Jirachi – Promo #21 – 50 HP
(C) Third Eye Blind
Discard one energy attached to Jirachi and draw 3 cards.
(P) Unknown Attack Name – 10x
Does 10 damage times the amount of energy attached to the Defending Pokemon.
Weakness: P
Resistance: None
Retreat Cost: C
News/Event Reminders


»Be sure to sign up for our Pokemon Apprentice League in the forums if you have downloaded Apprentice. If you want to download Apprentice and sign up for our league, join our message boards by [clicking here], and then going to Pokemon League under Apprentice League and reading through the three topics, which is where you download it and sign up.