Bulba-Bulba-Bulbasaur!
By: [Water Pokémon Master] — Friday – April 16th, 2004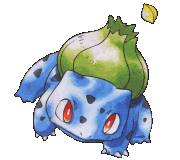 »Major Bulbasaur Spoiler: Elite Trainer Raven from the PokeGym has informed me of something extremely exciting. In the next episode that is coming out in Japan, May will capture a Bulbasaur. No further details are known since the episode has not come out yet. When it does, we will give you the full details to May's Bulbasaur and if Ash's Bulbasaur does indeed come back. This will be the first time in Pokemon history in which two people in the gang have the same Pokemon.