New Deoxys Movie Trailer!
New Deoxys Movie Trailer!
By: [Water Pokémon Master] — Saturday – April 17th, 2004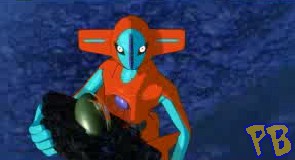 »Deoxys Trailer: Remember, you saw it here first. The official Japanese Deoxys website has created a brand new trailer for the Deoxys movie. In the trailer, we get to see new shots of Deoxys crashing onto earth, new shots of the boy named Tooi, a battle between Rayquaza and Deoxys, Deoxys taking on its defensive and attack form, and Deoxys attacking Ash and Pikachu. Let me tell you, Deoxys looks really creepy and scary. I wonder if it even makes a sound or talks or if it is just a silent killer. I am also wondering what that thing is that it is holding in the above shot. Anyways, to access the page that contains both the high quality and low quality trailer, you can [click here] and then once you have gotten through the introduction, click the second light green button under the first dark green one.