Colosseum Calendar, EX Team Magma vs. Team Aqua Scans, Gym Challenge Scan Progress
Colosseum Calendar, EX Team Magma vs. Team Aqua Scans, Gym Challenge Scan Progress
By: Water Pokémon Master — Thursday – March 4th, 2004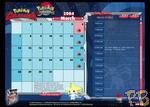 »Secret Jirachi Website and Calendar: Thanks to Pokeschool.com, we now know of a secret Jirachi website. After seven days, you will be able to download a very cool interactive calendar for your desktop that allows you to type in events each hour of each day of each month from the site. I was able to mess around with my computer clock, and I have already downloaded the calendar (wonder if I was the first…). Anyways, to view the calendar, click the thumbnail to the right. To go to the Jirachi website, [click here].
»EX Team Magma vs. Team Aqua Scans: Remember to check back here Saturday night or Sunday morning for Team Magma vs. Team Aqua card scans. I will be attending a pre-release on Saturday, so I will be able to scan the cards when I get home.
»Scan Progress: Sixty scans of Gym Challenge have been scanned. Expect for the whole set to be put up some time towards the end of this week.
Interesting Pokémon Fact


»When Wynaut evolves into Wobbuffet, it gains an extra eye on its tail.
Interesting Fact


»The human brain is 74% water.