Important EX Sandstorm News and EX Tin News
Important EX Sandstorm News and EX Tin News
By: Water Pokémon Master — Wednesday – September 3rd, 2003

»EX Sandstorm Card Amounts: You will never believe this. I got an e-mail notification that I had recieved a reply at PokeGym from someone who had replied to a topic I had subscribed to (EX-Sandstorm). Here is the funny thing, the post the person had posted showed the amount of trainers, PKMN, etc. that were in the set, but there post had been edited and the info was gone! (The e-mail showed there original post) Someone did not want the public to know that info, but I have the e-mail that has the post!
So, this is what will be in the set, if that person is correct, but I am not sure if it is true or not, which could be why it was edited, or someone did not want the public to know what cards would be in the set. So, here it is:
85 Pokémon
7 Trainer cards
1 Energy card
7 EX Pokemon
7 trainers, kind of low. 85 PKMN, kind of high. 1 Energy, probably a special one, no basics. 7 EX PKMN, sounds standard.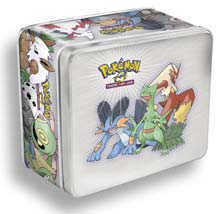 »EX Tin Update: I was browsing some card selling websites to buy some Jungle packs, and came across a website called Toywiz.com. I went to the Pokémon section of their website, and saw that they had the EX Tin, so I went to see if there price was any lower than that of EBGame.com. Anyways, there was some more info on it in the description of the tin:
1. The double sided poster will have Pokémon artwork on one side, and the EX card series checklist on the other, as well as organized play info. (wish I could see the checklist so I could start making the list for EX Sandstorm)
2. There will be two EX Sandstorm packs, and three EX R/S
To view the page, click here.
And still, no website that is selling the tin says whether the two holo Meowth and Pikachu cards are promos. Oh well…..
»Temporary News Page Reminders
»EX Sandstorm Pre-Release Tournaments Across the US (I will be at San Diego's)
»Ruby and Sapphire Challenge Series Tournaments Across the USA
»EX Sandstorm