Pokémon Colloseum, Pokémon Pinball, and a Promotion
Pokémon Colloseum, Pokémon Pinball, and a Promotion
By: Water Pokémon Master — Friday – August 1st, 2003
»Pokémon Colloseum Date: The release date for Pokémon Colloseum in America has been delayed from December 2003 to March 2004. This is probably due to having to work and translate more parts of the game for the English version. Now none of us will be getting it for Christmas! Ughh!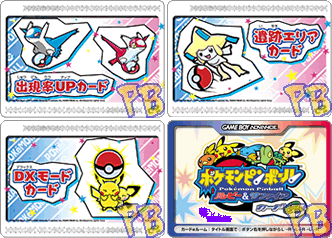 »Pokémon Pinball: Ruby and Sapphire E-cards: As you all know, Pokémon Pinball: Ruby and Sapphire was released today in Japan. But, what you didn't know was that if you purchase it between today and August 31st at one of the Pokémon Centers in Japan, you can receive three e-cards (the fourth one is just a logo card, it doesn't do anything). The first card with Latios and Latias allows you to find and capture Latios, Latias, Rayquaza, and Jirachi easier. The second one with Jirachi takes you to where Jirachi is and increases the number of bonuses you get. The last one featuring the Pika's saves your ball from rolling off the board more often. Of course, you have to have an e-reader to scan the cards into the game.
»Pokémon Pinball: Ruby and Sapphire English Website: In unrelated Pokémon Pinball Japanese news, the official English Pokémon Games website just today opened up a page on the soon to be released Pokémon Pinball for America. The page includes more screenshots, highlights of the game, a PokéDex, and much more. Click here to visit the main page, enter the site, and then click Pokémon Pinball at the top of the page.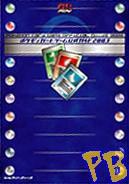 »TCG Strategy Guide Promotion: Due to strong popularity from the release of the ADV sets, Japan is holding yet another promotion to boost the TCG even more. If you fill out the following form before or on August 7th, you will have a chance to be drawn to win 1 of 100 TCG Strategy Guides! The form can be accessed here, but it is in Japanese. The screenshot on the right is what the guide looks like.
»Site Updates: I hope you guys like the new way the news is displayed. It will make reading different topics much easier. I have also added a reminder at the end of each news story so you won't forget important events. To read more on the Temporary News Reminders, always be sure to visit the Temporary News Page. The left and right menus have also been extended so more information can be displayed on each page.
»Temporary News Page Reminders
»EON Ticket Tour (I will be at the one in Riverside, CA)
»Torchic GBA