Pokémon 6 in Theatres Today in Japan! WARNING: CONTAINS SPOILERS!
Pokémon 6 in Theatres Today in Japan! WARNING: CONTAINS SPOILERS!
By: Water Pokémon Master — Saturday – July 19th, 2003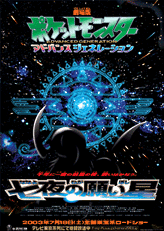 There is another update for today that I completely forgot about. Pokemon 6 is coming out today in Japan! The title of the movie is Wishing Star of Seven Nights and involves the legendary wish Pokémon, Jirachi. The story basically takes place in the Houen Region, following Ash, Brock, May, and her little brother. The story goes that every thousand years, there is a comet that orbits the Earth for one week. The movie somehow involves a mysterious cocoon that, according to legend, can only be heard by one person. During the movie, Ash and gang go to a theme park and talk to some magicians. While there, May's little brother hears a voice coming from a cocoon that belongs to the magicians, and only he can hear it. Could it be Jirachi? Just like all the previous movies, this one has a mini movie, The Dancing Pokémon Secret Base, featuring Meowth and Pikachu. That's all that is known for now, more updates on the story line in the next few weeks.
Unfortunately for the U.S. version of this movie, no one has signed up to distribute it in movie theatres, yet. Kids' WB had rights to the first three movies and Miramax had rights to the last two movies. If you ask me, I hope that Miramax does not take control of this movie again. The last two movies they releases they only put on limited release, which means that it doesn't appear in all theatres. If this happens again, it will be hard to find a theatre that is actually playing it. Every one cross your fingers and hope that another company, such as Kids' WB, has right to it.