"Pokemon Trading Card Game Classic" To Be Most Expensive Pokemon TCG Product Ever Sold in Stores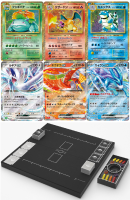 The Pokemon Trading Card Game Classic will release on November 17th in English!
It will retail for a whopping $399.99, making it the most expensive Pokemon TCG product ever released in stores. Preorders just launched on the Pokemon Center. It will also be sold at local hobby stores.
We've also learned the product will be sold at GameStop stores on November 3rd, which is two weeks before the November 17th date. It will retail there for the same price. GameStop has yet to officially announce this, so details could change.
TPCi has also announced, "The unique cards from [Classic] will be made available in a separate product coming in February 2024." Presumably this means you can get just the cards for a cheaper price — without the box's accessories — but this is speculation.
In Japan, Classic will release sometime in October for 35,000 yen (about $240). We're not sure why the English version will cost $160 more. Perhaps this is because TPCi knows the product will be in high demand and wants it to be perceived as a premium product. (We first learned about the $400 price a few months ago, but didn't report on it because we thought it was listed in error.)
Check out my report on Pokemon Trading Card Game Classic for hands-on photos and details. As posted before, Classic will feature three 60-card decks headlined by Base Set Venusaur, Charizard, and Blastoise. All 180 cards will be holo.