Pokemon Center's Van Gogh Pikachu Promo and Merchandise Now LIVE!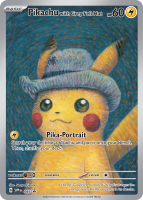 The promotion for the "Pikachu with Grey Felt Hat" promo is beginning to go live on the U.S. Pokemon Center website!
If an item is listed as "Sold Out," but says "Out of Stock" on its page, it doesn't necessarily mean it's gone yet. The website is currently struggling to handle the influx of customers.
Update: After less than three hours, TPCi has announced all products are now sold out.
As posted two days ago, you will receive one copy of the Pikachu promo for each item you purchase from the "Van Gogh Museum" collection. For example, if you buy four items, four promo cards will be added to your cart.
Yesterday the Pokemon Center listed it as a "special foil card," but it has now corrected the listing. The card will be non-holo like the one given out at the Van Gogh Museum in the Netherlands.
Eligible items in the Van Gogh Museum collection include:
The museum's web shop is also going to launch its own line of Pokemon merchandise. You won't get a promo card for purchasing it, however. Their merchandise isn't currently live.
The Van Gogh Museum's Pokemon exhibit will run from September 28th through January 7th. The Pikachu promo will be given to attendees who complete a "Pokemon Adventures" activity. The museum's gift shop will also have its own merchandise — if you're lucky.