Official Card Dex App To Be Discontinued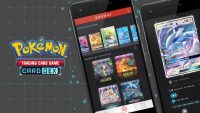 TPCi has announced the Pokemon TCG Card Dex app will be discontinued on September 20th. The app's services will be inaccessible and collection data won't be exportable.
Regarding its removal, TPCi states:
The decision was made to dedicate our full resources to the ongoing development of Pokémon TCG Live, ensuring that we're devoting our efforts to providing players with the best possible digital Pokémon TCG experience.
In place of the app, TPCi encourages players to use Pokemon.com or to build a digital collection in Pokémon TCG Live.